12V/24V Electric DC Water Pump for Aquarium Tank Pond Fountain DC40F
Product Detail
Product advantages
Product Tags
Dimension and weight: 85.5mm*64.8mm*56mm, 0.23kg
External Diameter of Inlet/Outlet: 20mm(thread)
Head: 0-6m
Flow rate: 0-960L/H
Driving Mechanism: Brushless, magnetic separation
Life span: 30000hrs
Noise: ≤35dB(A)
Waterproof level: IP68
Max. working temperature: 0-60℃
Suitable medium: water, oil, normal acid/alkaline(tested needed for special liquid)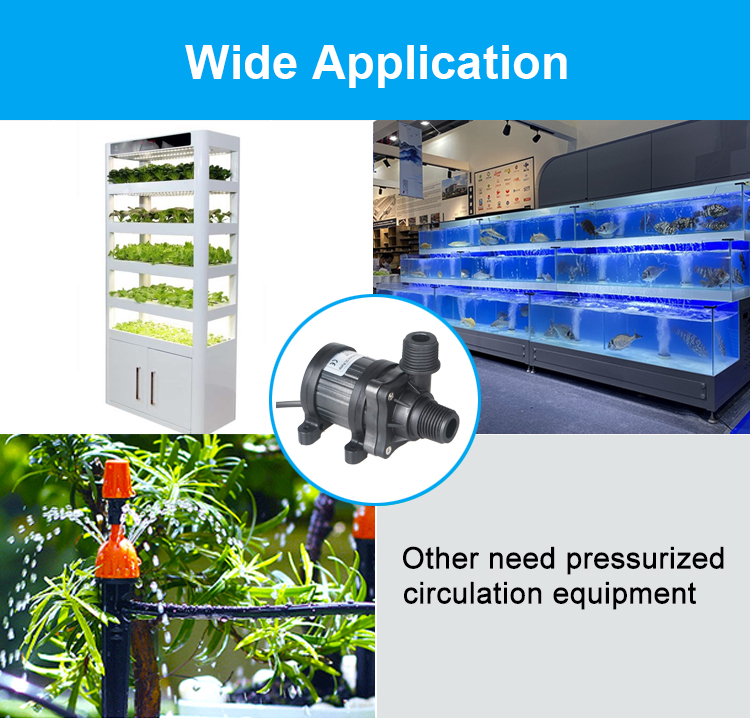 Fish pond, water tank, aquaculture, water feature and other need pressurized system
1

Product model

:

DC40F-1240

DC40F-2460

2

Rated Voltage

:

12V DC

24V DC

3

Working voltage range

:

5-12V

12-26V

The pump can out put constant power when the voltage is higher than rated voltage.

4

Rated Current

:

0.8A(1.2A)

0.8A(1.2A)

Closed outlet current(open outlet current)

5

Input Power

:

10.8W(15.5W)

18W(27W)

Closed outlet power(open outlet power)

6

Max. Flow rate

:

780L/H

960L/H

Open outlet flow

7

Max. Head

:

4M

6M

Static lift

8

Min. power supply

:

12V-2A

24V-2A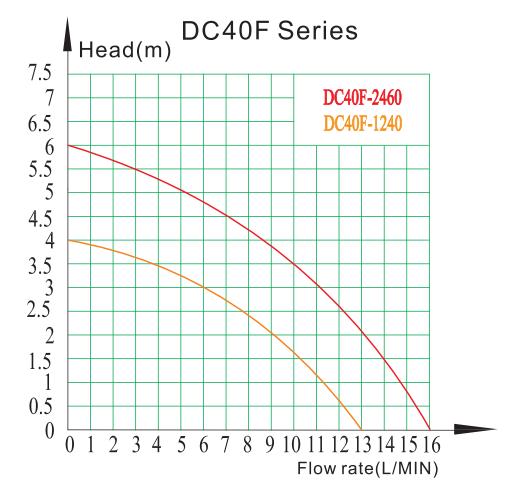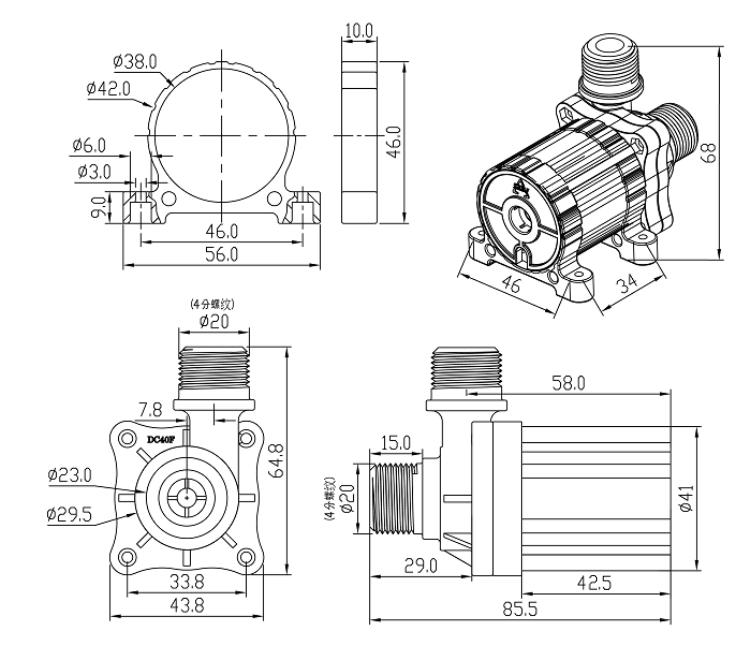 How to choose a right pump for your system?
1. Confirm your operating voltage, current, head, flow, and the size of inlet & outlet. In general, there is no flow when the head achieve the maximum head marked by factory. So if you require the pump is able to meet a certain height and also meet a certain flow, you should choose a higher maximum head than you need. Please consult us or refer to the performance curves.
2. Confirm the shape requirements, such as the type of interface, the direction of inlet & outlet, etc.
3. Confirm the working environment, such as the temperature, the medium, etc.
4. Confirm the functional requirements, such as the time control, the flow control, the speed control, etc.
5. Please feel free to contact us if you have any questions need our help during choose the pump.
6. We own our moulding factory, have the ability and capacity to open the mould, so if your system needs special model, we can provide ODM/OEM service for you.
And highly welcome OEM/ODM!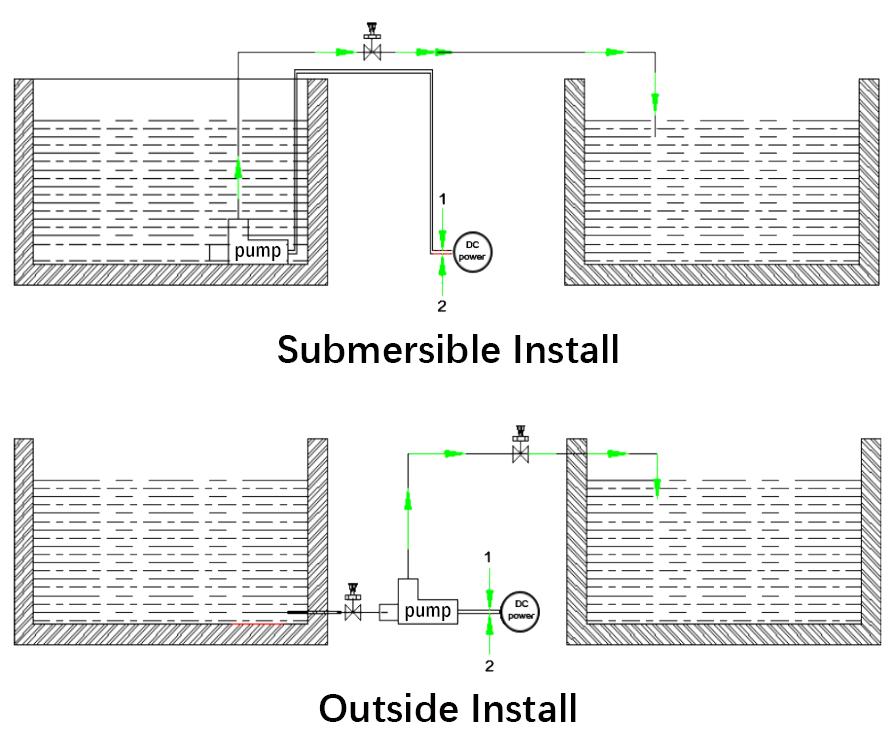 Note: The pump is not self-priming pump. When install it, please make sure there is enough water in pump body. Meanwhile, the pump must be installed below the liquid level in the tank.
●How long is the delivery time?
Sample order is 3~5 days.
Bulk order is 10~15 days.
If there is pumps in stock, it is 2 days.
●How long is the warranty of pump?
Warranty is 1 year.
●What's the payment method?
Paypal or T/T,Alipay
●What certificates have your pumps passed?
All our products have passed CE, RoHS
High welcome OEM and ODM!
---
---
1.DC Low voltage safe and reliable
2.Three phase brushless sine wave control technology
3.Eliminate high-frequency electromagnetic noise, smooth and silent
4.The pump body and the drive can be separated and resistant to high temperature
5.Magnetic isolation design, leakage proof, waterproof grade IP68.
6.Acid, alkali and salt corrosion resistance, oil resistance, organic solvents and other liquid media (consult in advance)
7.Constant power can be customized (for example, 12V 80W water pump, Constant Power 80W with voltage varying between 12v-24v)
8.Constant speed can be customized (keep the speed unchanged when the load changes)
9.Accurate dry run protection and Jam protection based on current detection (programmable protection mechanism)
10.Soft start eliminates the peak voltage and reduces the starting current
11.Suitable for Music fountain and other high-frequency start- stop application
12.MPPT function can be customized for solar power supply to avoid poor startup when the light is weak.
13.The pump and pump control system can be customized for various application environment requirements
Write your message here and send it to us